Chairman Akoko North West LG ,Ondo State Celebrates  APC Chairman.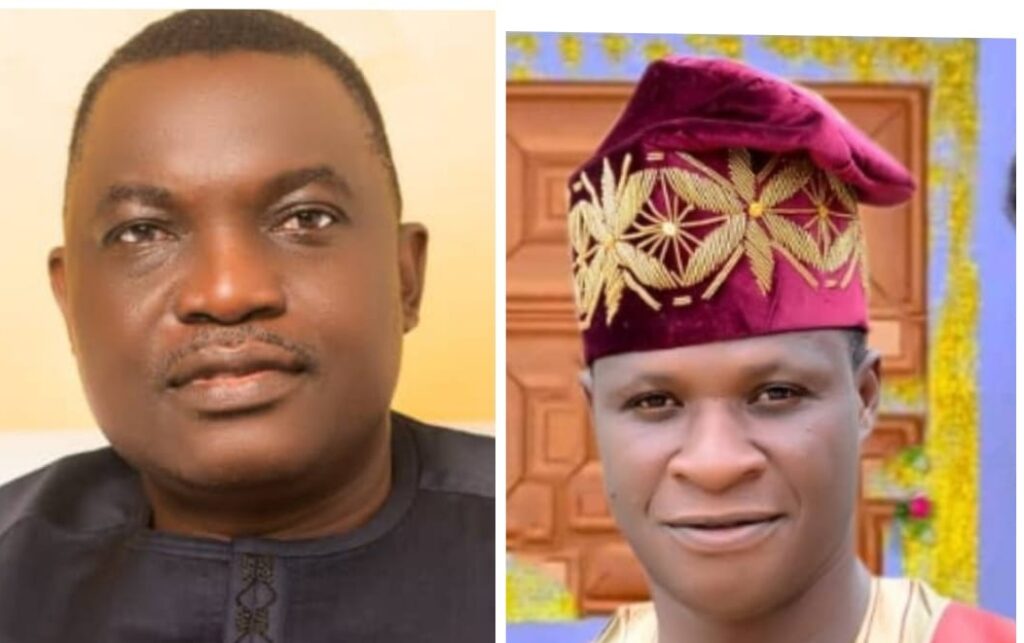 The Executive Chairman of Akoko North West Local Government, (ANWLG) Hon. Ayodele Samson Akande ,FCA, has sent a congratulatory message to the All Progressives Congress, APC Okeagbe Ward 3 Chairman, Mr.Ojo Francis Akeju who recently turned 50.
In his message Akande eulogises the Sterling qualities of Akeju saying that "At this auspicious moment it is an honour and great privilege for me to join other well-wishers all over the globe to celebrate a wonderful Okeagbe-Akoko youth, whose life already has a page in my history.
On behalf of the entire Akande's family, my political supporters, Okeagbe-Akoko Community, ANWLG Council and our great party, APC I'm wishing my dear brother, Ojo-Armani, a scion of Akeju, a Dynasty renowned for producing great icons like Baba, Chief Erastus O Akeju, Hon. Chief Felix Adejumo Akeju of blessed memory and other patriots within Akoko and beyond Ondo State.
And from these great leaders who remain the great sources of our inspiration as we both drink from them as our sources of knowledge gave us our sound political tutelage and mentorship and we have both remain steadfast along the path of honour within the progressive family.
This birthday must be a time for you to look inward, reflect on the past and reinvigorate for a fresh start, it is also a time for you to take stock of God's endless love, faithfulness and gratitude for all the unmerited grace.
Let this moment be a time for you to look forward with renewed hope for more significant benefits to mankind and achievement in all ramifications of life.
With all these 'Oore Ofe' ti'o common as you climb into a brand new life because life they say begins at 50, an age to be more responsible, responsive and renewed faith in God.
Let me use this moment to acknowledge those impactful memories we have shared together in the past and present and I can vouch for you that you are a man of high integrity.
Your life has been a continuous source of great blessing and inspiration to many of us whose words cannot aptly describe how proud of you we are and how can I forget you, someone who believed so much in me.
My co-traveler who navigated with me without compassing those slippery, unpredictable political terrains journeyed together through thick and thin, under the sun and inside rain.
There is no appropriate words to describe how much I appreciate you as I hold in high esteem amongst our compatriots in our world were gratitude are becoming alien like a scarce commodity
This is my sense of gratitude for all your dedication, loyalty and diligence to me, our party and our community as a whole. How can I forget a young man who gave me unalloyed support when hopes were dimmed.
How can I forget a man who is always there for me whenever there is need for humanity, intervening for me in prayers and through other moral supports and for countless landmarks we both attained together.
You will only be remembered by the lives you impacted and solutions you proffer to our various challenges so I am celebrating with you today not only your birthday but everyday forever because of your remarkable legacies on the political corridors.
Thanking you for all the value you've added to many lives directly or indirectly and you'll be shocked at how dear you are to many because of your exceptional contributions to the joy of others.
Through your exemplary leadership as a youth leader within your community, as the past Chairman of the Nigerian Tailoring Associations, in ANWLG and presently as the APC Ward Chairman of Ward 3, I can boldly say you are a hero.
MY fervent PRAYER for you at all times is in Numbers 6:24-26" May the Lord Jehovah the maker of heaven and earth keep you healthy, content and happy until the end of time.
May Almighty God grant you long life, divine health with favour unlimited grace to continue to flourish and number your days.
Once again ! Aseyi samodun ooo
Igba Odun Odun Kan".